Jeff Styers - Founder
Jeff is a former undefeated professional boxer who is now a governor appointee and vice-chairman overseeing professional boxing and mixed-martial arts in Michigan. Jeff is also CEO of Arrow Strategies, which is a national contract staffing firm with headquarters in Southfield, Michigan.
Jeff grew up in the Norwayne neighborhood and, when he began boxing at 14 years old, had to travel to Detroit to find a place to train. He had a vision that one day he would open a boxing gym and provide area youth with an opportunity to reach higher.
Many years later, Jeff learned the former Jefferson Barns Elementary School would be converted to a community center and he saw his opportunity.
The success stories coming from the Norwayne Boxing Gym have solidified Jeff's vision, and he looks forward to having a positive influence on all who walk in the door.
Erskine Wade - Head Trainer
A former
featherweight dynamo
, Erskine oversees all boxing-related aspects of the Norwayne Boxing Gym. Further, he serves as a mentor and role model to all youth who encounter him. An advocate of hard work and positive attitudes, Erskine Wade habitually goes the extra mile for his athletes--providing transportation, meals, clothing, and often a listening ear for those in need. Erskine has been head trainer since day one.
Anthony Anderson - Assistant Trainer
Coach Tone grew up on 8 Mile Rd. in Detroit and began boxing at Johnson Center when he was 16. Initially, Coach Tone arrived at the Norwayne Boxing Gym to introduce his young son to boxing. However, his involvement has now evolved from involved parent to trainer, coach, and mentor. Coach Tone prides himself on giving tough love, showing youth he cares enough to demand their best.
​Dr. Sean Galvin - Director
Sean oversees all operations and educational aspects of the Norwayne Boxing Gym. He has worked as an educator in Wayne-Westland since 2008 and has spent time at John Glenn High School (Westland), Franklin Middle School (Wayne), and most recently as Executive Director of Champions of Wayne at Wayne Memorial High School. Dr. Galvin obtained his Ph.D. at Eastern Michigan University, where he studied the impact of mentoring on at-risk youth. Although Dr. Galvin has no formal boxing experience, he had two pet gerbils as a kid and named them Mike Tyson and Buster Douglas.
Antonio Wade - Assistant Trainer, Professional Boxer
Born in 1991, Antonio Wade is now in the early phase of his professional career. In addition to training full time at the Norwayne Boxing Gym, Antonio chooses to donate his time to coaching NBG youth who look up to him.
Kelly Chidester - Operations Manager
From the very beginning, Kelly has been instrumental in getting things done at the Norwayne Boxing Gym. She coordinates schedules, holds the staff accountable (particularly Jeff and Sean), and ensures the development of the organization.
Powered by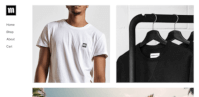 Create your own unique website with customizable templates.